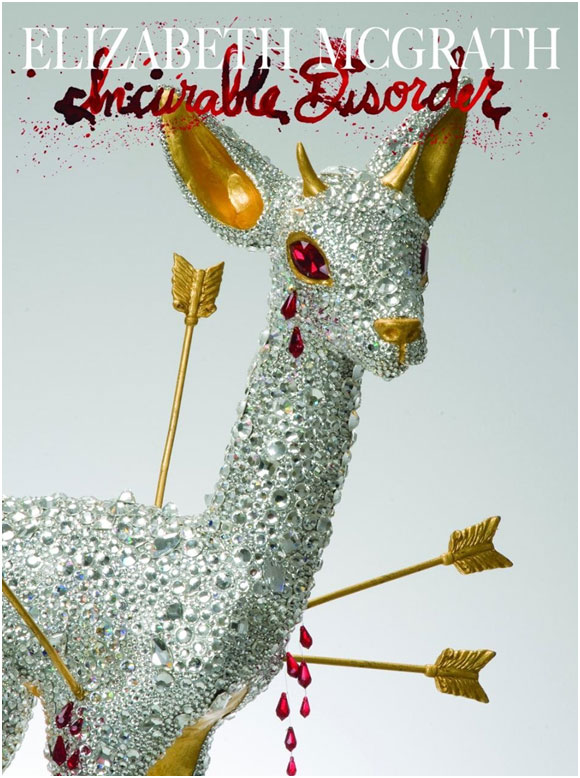 Elizabeth McGrath: Incurable Disorder Book Release Party & Pop Up Exhibition
Sunday, December 8, 2013, 7 PM – 10 PM

"Incurable Disorder" is Elizabeth McGrath's second full-length monograph, including works from 2005 to 2012. One of the leading women of the pop surrealism movement, McGrath has an uncanny knack for creating dark, edgy, fantastical works layered with beauty, angst and significance. Influenced by the relationship between the natural world and the detritus of consumer culture, she sculpts, paints and builds endearing, often tragic, creatures from a wide range of materials including ceramic, cloth, paint, paper, gold leaf, rhinestones, shells and found objects. From dioramas to mixed media paintings to three-dimensional sculptures, each piece is infused with deep meaning – historical narratives, cultural references, environmental statements – while teeming with the charm, dazzle and beauty of a lovingly crafted – and lovable – object.
Self-taught, Elizabeth McGrath has exhibited extensively in galleries and museums in the US and Europe including the American Visionary Art Museum and the Bristol City Museum and Gallery. Her first book, "Everything That Creeps," was released in 2005. McGrath lives in Downtown Los Angeles with her husband, the artist Morgan Slade, their daughter Sadie Valentine Slade and hairless Chihuahuas Blue and King Tut.
To celebrate not only the release of her new book but a festive pop-up show, Liz returns for just one day to the place her career began: La Luz de Jesus Gallery. There will be:
Zombie Santas Mike Odd of Rosemary's Billygoat and Dookie Flyswatter of Haunted Garage with their cute Undead Elves–available for your Christmas family photos!
Refreshments by Messy Monsters
Free print and buttons (while supplies last)
Special guest Clint Catalyst will be reading a poem he wrote for the Incurable Disorder book
It all starts at 7PM on Sunday, December 8th with a scheduled ending of 10PM. Pre-sales are available, so contact Tricia@soapplant.com or call the book shop at (323) 663-0122 to reserve your signed copy today!
I love Liz's mystical, magical, creations. They are the kind of creatures I want to keep company with. They make me happy.

- Mark Ryden
Elizabeth McGrath: Incurable Disorder – 160 pages, $39.95
200 new images with introductions by Morgan Spurlock, Alix Sloan, Winter Rosebudd & Clint Catalyst (who will be present to read his poem from the book!)
in Events
Tags: Elizabeth McGrath