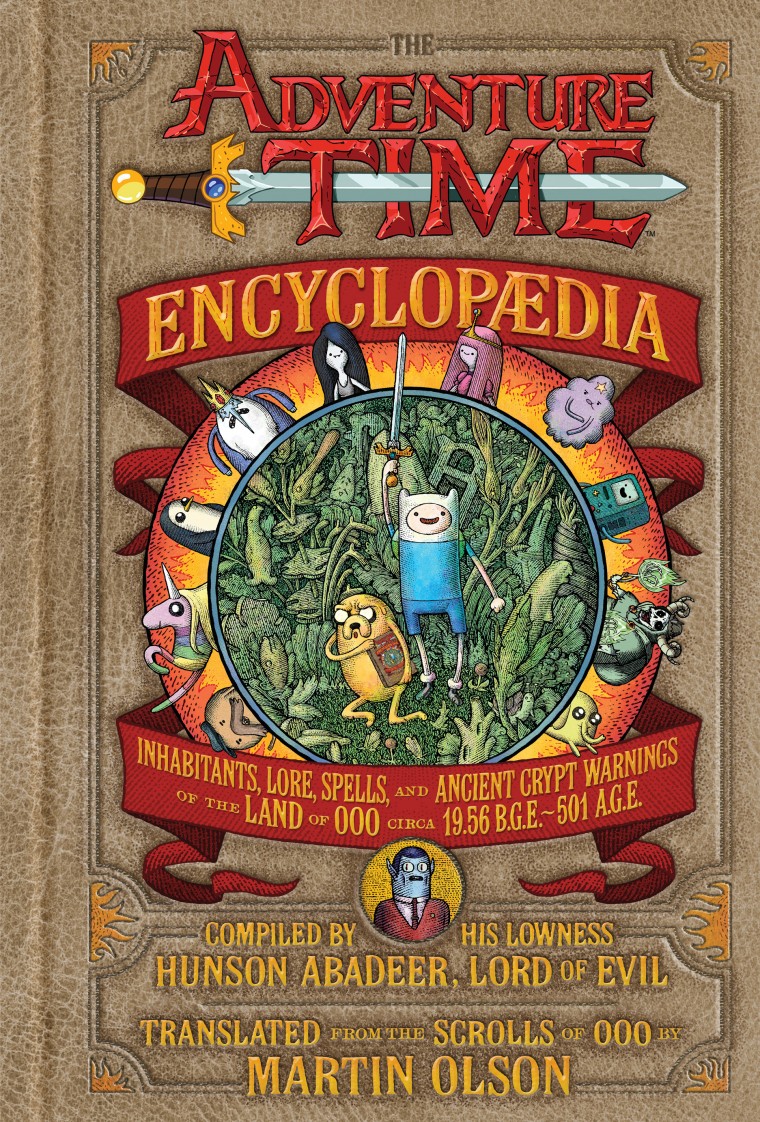 Adventure Time Super Event
The Adventure Time Encylopaedia Book Release Party
featuring Martin and Olivia Olson, Tony Millionaire, Pen Ward and Tom Kenny and Evil Music, Evil Snacks, and Evil Fun for Everyone!
Saturday, August 3, 2013, 3-10 PM
Compiled by His Lowness Hunson Abadeer, Lord of Evil. Translated from the Scrolls of Ooo by Martin Olson.
What time is it? Adventure Time! Created in conjunction with Cartoon Network Enterprises, Abrams is excited to introduce The Adventure Time Encyclopaedia, the first-of-its-kind, definitive guide to the show's beloved characters and world. The Adventure Time Encyclopaedia includes everything anyone will ever need to know about the Land of Ooo and its inhabitants-secret lore and spells, fun places you should visit and places where you will probably die, what to eat and what not to eat, whom to marry and whom not to marry, how to make friends and how to destroy your enemies-plus "marginalia" and doodles by Finn, Jake, and Marceline.
The Adventure Time Encyclopaedia is written by Martin Olson, the voice actor for the Lord of Evil on Adventure Time, who narrates the book in character. It also features original illustrations by acclaimed Adventure Time cartoonists Renee French, Tony Millionaire, Celeste Moreno, Aisleen Romano, and Mahendra Singh, and is designed by Sean Tejaratchi. The show's creator, Pendleton Ward, contributes original content to the book as well.
About the Show
The Emmy® Award-nominated Adventure Time first exploded onto television screens in April 2010, and is one of the most popular animated programs on Cartoon Network. It follows the adventures of Jake the dog and Finn the human in the post-apocalyptic Land of Ooo. Best friends Finn and Jake live among other colorful, crazy characters such as Princess Bubblegum, Lady Rainicorn, Lumpy Space Princess, the Ice King, and Marceline the Vampire Queen, and the show's climactic storylines, vibrant and colorful animation, and adult humor and character development have made Adventure Time a hit among children, tweens, college students, and adults.
The Adventure Time Encyclopaedia is both a companion and an indispensable supplement to the characters, story, and world of the show. Fans of all ages will love this side-splittingly funny, complex, and intricate love letter to the cartoon.
Martin Olson is a comedy writer, television producer, stage director, and composer. Olson is best known as a "founding father" of the Boston comedy scene, and he has received an Emmy nomination and Ace Award for television writing. Olson lives in Los Angeles.
Adventure Time Encyclopaedia
Hardcover: 160 pages, $19.95
in Past Events