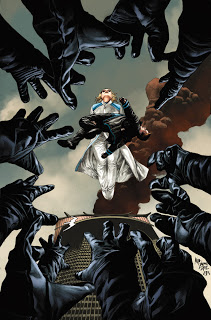 The new Harbinger (#6)
The story of the Valiant Universe is a brief and convoluted tale of greed, double-crosses, and espionage–and that doesn't even address the comics they published!
In 1989 former Marvel CEO Jim Shooter found himself a persona non grata in the industry he helped shape and flourish. After a failed attempt to buy Marvel and another failed attempt to buy Harvey he found a venture capital group willing to bankroll a new comic publishing empire. In 1991 after a brief stint publishing books based on Nintendo and World Wrestling characters, they licensed characters from the old Gold Key line (Magnus Robot Fighter, Turok Son of Stone, Dr. Solar), and focused on the original superhero business plan. Within two years a creative team that included Bob Layton and Barry Windsor Smith helped expand the Valiant Universe with original characters Harbinger, X-O Manowar, Rai, and Shadowman, followed by Eternal Warrior and Archer & Armstrong. HARBINGER #1 was named "Collectible of the Decade" and in 1992 Shooter was given Wizard's Lifetime Achievement Award. In 1993, Valiant was named Publisher of the Year, and the company's monthly circulation was almost identical to DC Comics (a 50 year publishing veteran). Valiant titles like those already named and the new Bloodshot and Ninjak regularly occupied the top 10 alongside Batman, Spawn, Spider-Man and X-Men.
By 1994, Shooter was gone and his investors, Triumph Capital, sold their shares to video game giants Acclaim Entertainment. They had great (though short-lived) success with games based on the Gold Key characters Magnus and Turok as well as original Valiant character Shadowman and an Iron Man / X-O Manowar crossover game, but they ceased publishing monthly comics and the line that had overtaken Marvel, DC, Image, and Dark Horse was no more.
Of course there were other problems in the industry at that time–problems that many industry historians blame on Valiant. Shooter had fallen out of favor with the fans after a series of private memos on company letterhead at Marvel revealing his contempt for comic fans was leaked at The Comics Journal. He had been the man responsible for "dumbing down" the story arcs to concentrate on crossover events like Secret Wars, and was a big fan of gimmicks.
At Valiant, Shooter engineered the #0 origin issues, launched the variant cover concept with limited gold foil editions took the company-wide crossover concept into overdrive to the extent that events in any given comic could repercussions upon any other title without warning, forcing avid readers to purchase all titles in the company's imprint. For a little while these tricks worked and even inspired the competition to copy the format, so that "Platinum" editions appeared in DC's Vertigo line and multiple covers became normal at Marvel and Image. These gimmicks had drawn speculators into the hobby and led to inflated orders on any new first issue so that more premium, variant covers would be shipped with those orders. For a while, the ballooning prices of gold foil editions of Valiant books were so much higher than the standard Valiant books that it would have been worthwhile to order 100 copies of any issue and burn the 95 standard copies to sell the 5 premiums for $60 or more apiece.
History has taught us that going back to the same well so often leads to a drought, and the entire industry almost died in the years that followed. It was the independents that saved comics back then, and the stigma against superheroes has only recently (with successful film franchises) begun to wear off. Have they learned their lesson?
Of course not.
Marvel and DC have continued to alienate new readers by choosing to sell company-wide crossovers and variant covers to the people already invested in their product. There is absolutely no growth potential in this marketing plan. Marvel has gone to a bi-weekly publishing schedule and expanded successful title X-Men from one to twelve separate titles, only two of which are any damn good. This is a cannibalization of the buying demographic, and if any of the people buying these titles misses two months, they'll be out for good. And no matter how many times they reset to the beginning, continuing to dilute the market insures that spiked sales among the same buyers isn't the same as attracting new readers. It's an all eggs in one basket approach, and it's foolish.

Enter the New Valiant.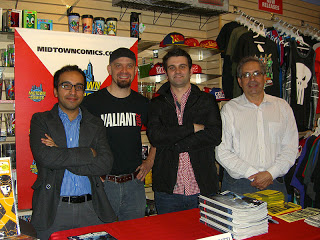 From left to right: Chief Creative Officer
Dinesh Shamdasani, Sales Manager Atom! Freeman, Marketing and
Communications Manager Hunter Gorinson and Publisher Fred Pierce. © Luigi Novi / Wikimedia Commons.
In 2007, a lifelong fan of the Valiant Universe scraped together enough equity to rescue the Valiant characters not originally published by Gold Key from Acclaim's bankruptcy. Jason Kothari and Dinesh Shamdasani formed Valiant Entertainment and endeavored to revive their favorite line of comics. They hired Jim Shooter, but wound up suing him for a breach of contract when he agreed to write Magnus Robot Fighter for Dark Horse. There was also a long litigation with Valiant Intellectual Properties LLC, who seemed to be under the impression that Acclaim had failed to renew the trademarks during their bankruptcy, and thought they had a free ride. In August 2011, Kothari and Shamdasani hired another former Marvel CEO, Peter Cuneo, and the summer of 2012 was announced as the "Summer of Valiant."
I was never a big fan of the original Valiant books, and the fact that none of those back issues held their value was a sign to me that most of the people who bought those 50 million issues turned out not to be, either. I hated the coloring in the books which made the artwork look muddy, and having been obsessed with Barry Windsor Smith's Conan and Machine Man, and expecting something on par with his Weapon X, I was quite non-plussed by his work at Valiant. I love Bob Layton, and his work on Marvel's Iron Man (whether inking himself or John Romita Jr.) stands as one of the best runs on the title, but he wouldn't have been my first choice to ink Smith or Art Nichols. It was fine journeyman work (as was most of the Valiant art), but under that flat color it all seemed to have a "house" look. It must be noted that as an editor, Layton excelled, and the story was always front and center at Valiant.
While I wasn't a fan of the comics, it's really hard not to root for fanboys who take over the company, so with the hype at comic shops at a fever pitch for this new launch of the other major publisher of the 90s, I went out and bought the first five issues of the new X-O Manowar, the first four issues of the new Harbinger, Bloodshot 1-3 and Archer & Armstrong 1 & 2. What do I think?
The artwork on these titles is really good. I also like the new Valiant logo which reminds me of a classic car hood ornament. The writing is on par with most of what's out there, and in the case of Harbinger, its well above par. Joshua Dysart is in the top ten percentile of comic book scribes at the moment, and hasn't over extended himself on too many titles yet. I don't like that all of the new Valiant comics offer alternative covers, but I do like that they aren't offered as premiums. You can choose which cover you prefer or you can buy both if you are so inclined.
If I'm to break it down by title, I found X-O Manowar to be implausible and overly complicated, but readable. Too much is taken for granted as far as reality is concerned, but it's a comic book and complaining about suspension of disbelief in a superhero comic is pure folly.
Bloodshot has a good story but the actual writing was situational in that the situation of the plot seemed to determine the writing style, so there was no "voice" to the comic. It's too early to judge if that can be maintained for a long run, but it's not bad. The art is really good and I enjoyed it.
Archer & Armstrong is extremely well drawn by Clayton Henry and the covers have been the best of the entire line so far. It's a humor title, though, and I'm not a big fan of that. Maybe J.M DeMatteis burned me out on Justice League, or maybe Garth Ennis took it too far in… pretty much everything, but I like my heroes serious with a bit of comedy thrown in, not the other way around. I love to watch Monty Python, but I'm not sure I'd read a comic book of the Life of Brian. I realize I may be in the minority here, though, so If you like silly, you'll love this.
Harbinger is excellent. The covers haven't been doing the interiors much justice, but if you want to read any of the new Valiant books, this is the one I'd recommend. It's layered, and all the characters seem to be walking the same nebulous line between cause and conviction adding a strong sense of mystery and even paranoia to the proceedings. Writing is great, art is great and I'll be continuing to follow this book.
I've heard that the upcoming Shadowman is incredible, so I'll just have to wait and see.
They're off to a strong start and I wish these guys luck. I hope they can steer clear of the nonsense that brought the original company down, and if they're looking to expand with some NEW characters I've got a great female protagonist I'd be happy to pitch…