November 4 -27, 2016
DANNI SHINYA LUO & VAN SARO
November 4 -27, 2016
Opening Reception: Friday, November 4th 8PM
Danni Shinya Luo  – Mollier
Danni Shinya Luo's female forms breathe with a sensuality and femininity. Shinya's fluid and organic figures are full of romance, but also of empowerment. No mere pin-ups, her images inhabit a dreamy multiplex of emotions and vocations.
Her past exhibitions meditated on beauty and psychological tension, by indulging femininity in visions of figures and wild creatures. In Shinya's final exhibition, Mollior, she is returning to the fundamental of the craft, continuing the examination of feminine mystique through lines and limited palette. Mollior, the Latin word for "softer", a concept that sums up the show's spirit in entirety, from the subject matters to the style of expression.
Only when we revisit the foundation of art with a softer, purer point of view we can then experience the most blissful enjoyment – simple beauty.
Also Available:
Van Saro  – Concrete Jungle
Van Saro got his start on the streets. He grew up in Surrey, British Columbia, not too far from Vancouver, and graffiti art was a big deal. "I would take the bus to the city all the time, take pictures with a disposable camera and try to emulate it," he says. "I was never good as a kid, but, that's where we all started."
Saro was 11 the first time he hit Canadian walls then got pretty heavily into the graffiti world during his teenage years. "Graffiti allowed me to be angry and get out there and paint," he says.
These days, Saro primarily paints with oils, draws with charcoal and displays his works inside galleries. The influence of the streets, though, is still evident in his work. Saro, who has lived in Los Angeles for over a decade and a half, unveils his latest collection, "Concrete Jungle," at La Luz de Jesus in November 2016. Among the pieces are painted bank notes from war-torn Iraq and the porous-bordered Turkey–the latter of which bears Armenian critique of the genocide of 1915-17.
It's a a photo-realistic, oil-painted glimpse into decaying civilization. "I continue to find beauty in the decay," he says, "but as a father (now) I try to find hope in unlikely places."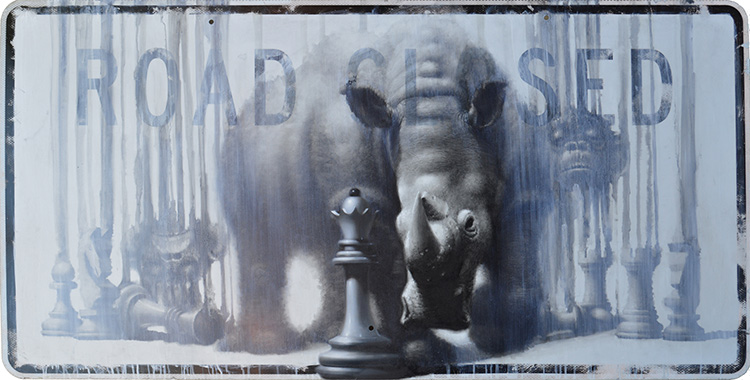 For years, Saro lived as an undocumented immigrant in California. He floated from one home to the next, spending time in San Pedro, the San Fernando Valley and parts in between. He headed up to Sacramento for a bit. At one point, not long after his arrival in Los Angeles, he lived on the streets. That lasted for a couple months, until a friend was able to get him a job in a restaurant and Saro had enough money to rent out rooms in other people's homes. "That's basically how I lived for most of the first eight years that I was here," says Saro, "surviving day to day. That's not a future I want my family"
He worked the sort of jobs that are typically available to people who don't have papers: dishwashing and landscaping. "Whether I was able to do it or not, I would say yeah I can do it," says Saro. "Survival makes you do things you didn't think you could do–and I don't mean that only in a negative context. I found strength in situations that seemed pretty hopeless."
"When I started painting again, I was really serious about dedicating my life to being an artist," he says. "It was when I had the luxury of knowing that I would have some food when I got home. I would have a few extra bucks in my pocket to buy a can of paint."
Today, Saro lives in the San Fernando Valley with his wife and two children. His life has settled greatly. Still, there's a deep struggle for survival that exists on his canvases. "Everything is balanced," says Saro. And you can say that about his life in Los Angeles as well.
*excerpted and addended from an interview with Liz Ohanesian for KCET.
Contact Gallery Director Matthew Gardocki for purchase info:
info@laluzdejesus.com  (323)666-7667