Feral House Presents
American Grotesque: the Life and Art of William Mortensen
Slide Show, Book Release & Signing Party

Valentine's Eve: Friday, February 13th, 7-9pm
American Grotesque is a lavish retrospective of grotesque, occult, and erotic images by the forgotten Hollywood photographer William Mortensen (1897–1965), an innovative pictorialist visionary whom Ansel Adams called the "Antichrist" and to whom Anton LaVey dedicated The Satanic Bible.
Mortensen's countless technical innovations and inspired use of special effects prefigures the development of digital manipulation and Photoshop. Includes a gallery of more than one hundred striking photographs in duotone and color, many of them previously unseen, and accompanying essays by Mortensen and others on his life, work, techniques, and influence.
Publisher Adam Parfrey and authors Larry Lytle and Michael Moynihan will be present to sign copies of American Grotesque as well as The Command to Look: A Master Photographer's Method for Controlling the Human Gaze, with Lytle speaking about Mortensen with a slide show. Other special collaborators are scheduled to appear as well.
Due to the scarcity of American Grotesque, it will be available for in-store purchase on Friday during the event only. We'll allow the line-up to begin at 6PM. You may, however, reserve your signed copies of  The Command to Look online or in-person at any time before and during the event!
Title: American Grotesque: The Life and Art of William Mortensen
Authors: Larry Lytle, A.D. Coleman, Michael Moynihan
Hardcover: 300 pages
Publisher: Feral House
Language: English
ISBN-10: 1936239973
ISBN-13: 978-1936239973
Product Dimensions: 1.2 x 9 x 12.2 inches
Shipping Weight: 3.6 pounds
Retail price: $45.00
The exhibition features 12 original, archival photographs, signed by Mortensen and available for purchase as well as a collection of affordable C-print reproductions of some of his most highly recognized images. Call or email gallery director Matt Kennedy to make an art purchase.
(323) 666-7667 info@laluzdejesus.com
Title: The Command to Look: A Master Photographer's Method for Controlling the Human Gaze
Authors: William Mortensen & George Dunham, Michael Moynihan, Larry Lytle
Hardcover: 190 pages
Publisher: Feral House
Language: English
ISBN-10: 1627310010
ISBN-13: 978-1627310017
Product Dimensions: 1 x 5 x 7 inches
Shipping Weight: 11.4 ounces
Retail price: $20.00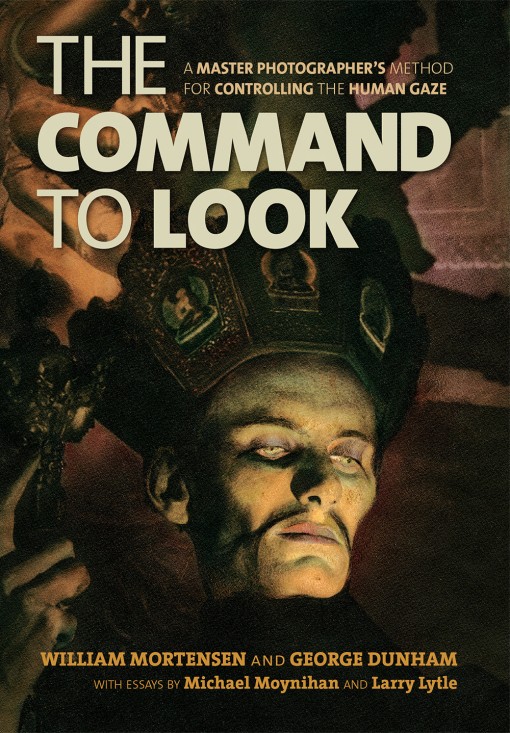 The Command to Look is considered one of Mortensen's most momentous and rare books. Until now, copies on the antiquarian book circuit sold for many hundreds of dollars. It is a crucial book for understanding both Mortensen's philosophy and his use of psychology in the making of his pictures. To illustrate the text Mortensen includes an amazing gallery of his best-known and most challenging images with explanations, by him, of what makes those photographs so compelling.
The reprint of The Command to Look also contains two new major essays that assess the significance and impact of the original book. An introduction by Mortensen biographer Larry Lytle explores Mortensen's use of Jungian psychology and also discusses new advances in neural psychology that confirm Mortensen's methods of controlling the viewer's eye. The second essay, by historian Michael Moynihan (author of Lords of Chaos), details a strange and unexpected reception of the book: how this small volume on photographic methods played a role in the creation of the modern Church of Satan and Anton LaVey's theories about Satanic Magic.
Only books purchased here will qualify for signing.
Contact the book store for purchase information.
(323)663-0122 or sales@soapplant.com.