THE ART OF TIKI: 21st Anniversary Art of Tiki Show
& No False Idols
Exhibition: Oct 6-29
Book release & signing party 6-8PM
Artist Reception 8-11PM
Friday, October 6
The Art of Tiki, a two-part exhibition held by the world's preeminent art purveyor and epicenter of the celebrated low-brow art movement, La Luz de Jesus Gallery.
Opening October 6th, 2017, a dual show, The Art of Tiki will premiere in Los Angeles, California.
Also making its debut that evening will be the latest tome by the principal chronicler of the Tiki movement, Sven Kirsten, author of such legendary books such as, The Book of Tiki, Tiki Modern and Tiki Pop. His latest, The Art of Tiki, shall specifically address the content of this gallery show, utilizing its subject for a fascinating perspective on the mid- century faux-Polynesia movement–featuring contributions from Otto Von Stroheim and Shag.
Back in 1996, La Luz de Jesus Gallery hosted the first themed show of its kind, gathering new voices in the low-brow art world to offer a collective artistic interpretation of the original, mid-century Poly-pop period. The Art of Tiki exhibition effectively ushered in the postmodern Tiki era, introducing newly themed Tiki art by such luminary artists as Mark Ryden, SHAG, Mitch O'Connell and Pizz. Since that debut 21 years ago, the contemporary Tiki movement has flowered into virtual crusade of escapism. Art, music, gastronomy and even whole Tiki-conventions offer worldwide, year-round opportunities to revel in grandpa's version of urban escapism; an expression of recreational diversion, which radiates still since its flashpoint following the epic conflict of World War II.
The exhibition itself consists of two separate, yet related sections. The first observes the present and the second celebrates the past. Together for the first time, the public will have access to both contemporary artistic interpretations of the Tiki art form and vintage Tiki originals from which the modern movement sprang.
The Art of Tiki-the 21st Anniversary Show will offer a reunion of many of its original artists, as well as a gathering of new disciples in a collective showcase. Works of art celebrating this colorful genre will be featured in all manner of mixed media presentations.
Tiki Farm produced a limited edition of 150 commemorative mugs with an exclusive glaze, each accompanied by a signed and numbered C.o.A. signed by The Art of Tiki author, Sven Kirsten. Pictured below, these mugs were $40 each and have completely SOLD OUT. A 2nd edition of these mugs is on the way, so contact the book store for purchase information:
(323)663-0122 or sales@soapplant.com
The Art of Tiki
Written by Sven Kirsten, Otto Von Stroheim, Jordan Reicheck
Introduction by Shag
Publisher: La Luz de Jesus Press / Last Gasp Books (October, 2017)
ISBN: 978-0-8671-98676
Language: English
Softcover, 200 pages
Product dimensions: 9 x 1 x 11 inches
Shipping weight: 2 lbs
Price: $40.00
The first printing of this book is almost completely sold out, so contact the book store to purchase yours today.
(323)663-0122 or sales@soapplant.com
Or click here to buy now online!
21st Anniversary Tiki Show
The Art of Tiki is published in conjunction with the 21st Anniversary Tiki Art Exhibition, commemorating the 1996 exhibition curated by Otto Von Stroheim at La Luz de Jesus Gallery in Los Angeles. Otto returns with selections from that exhibition as well as the best of Tiki's current generation of artists and craftsmen. Images below.
The Art of Tiki: No False Idols
The Art of Tiki: No False Idols portion of the exhibition shall feature the world's first and most comprehensive public offering of original, mid-century Tiki décor. Commercial carvings, fixtures, furniture and lighting will be on sale from some of the most famous and obscure Tiki temples hailing from the mid-century era. Famed establishments as Trader Vic's, Kona Kai and Kon Tiki will be represented as well as renowned artists such as Leroy Schmaltz, Barney West, William Westenhaver, Jim Casey, Milan Guanko, Richard Ellis and Andres Bumatay.
Artifacts originating from the heart of the mid-century Polynesian-Pop era include figural carvings, architectural fittings, decorative trim, hanging décor and more. All sourced from a single, well curated private collection, the assortment on offer covers everything from home and restaurant décor to rare Polynesian-themed apartment complex art. Select relics on sale from will be featured in the new exhibition-based book by Sven Kirsten, The Art of Tiki.
This assemblage of vintage commercial art is unprecedented. The rarity of such ephemeral "survivor" specimens is a testament to the short life and sad death of the original Tiki era.
This is a once-in-a-lifetime opportunity for the public to experience all the 'world of Tiki' has to offer!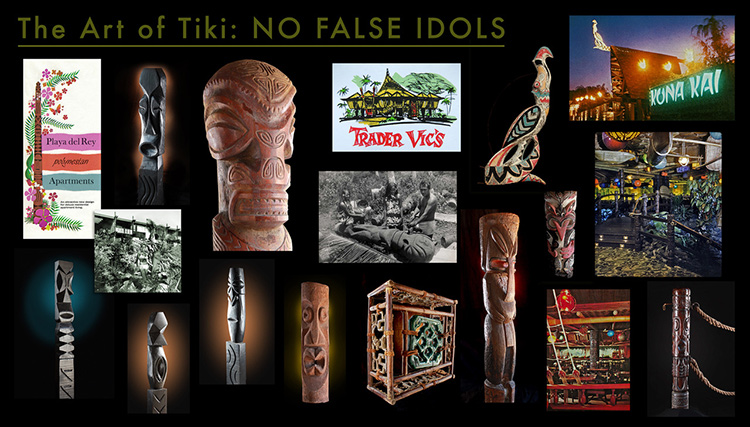 Some of the featured artifacts originate from these historically celebrated Tiki-locales:
The Kona Kai, Philadelphia, PA
Created in a 'not to be outdone' competition between the titan hotel empires, Marriott commissioned an elaborate chain of its own Polynesian themed restaurants. As a shot across the bow to Hilton's Trader Vic's and Sheraton's Kon Tiki, The Kona Kai was arguably the most obscenely extravagant of the challengers on the field. No expense was spared and rather than utilize stock or simply procured décor for it's outfitting, practically every decorative element of the Philly location was custom designed and created. Wall treatments, tropical carpeting and signature figural Tiki carvings were all fashioned from tailor-made blueprints furnished by the prolific architects. Saved in a daring last minute rescue during the The Kona Kai's tragic 1985 demolition, the exquisite carvings on offer here at La Luz de Jesus are testaments to this now mythic Taj-Mahal of mid-century Tiki opulence.
Trader Vic's, various worldwide locations
Recognized as the champion and 'last man standing' of the epochal Tiki chain wars, Victor Bergeron's, Trader Vic's is also perhaps the most beloved. Like "Don the Beachcomber" before him, Bergeron fashioned himself into the quasi-autobiographical living mascot of his business. Decades before Dos Equis beer made the boastful corporate claim for its representative, Trader Vic was arguably the world's most interesting man!
Trader Vic's truly lived up to the hype, presenting the best from Vic's own supposed far- flung exploits. Mementos of his swashbuckling adventures functioned as décor and specialized exotic cuisines served as a tactile account of his distant travels. This was themed-environmental dining at its apex. Oh, but the drinks! Picking up and sprinting with the torch passed by Donn Beach, Trader Vic's also featured a centerpiece bar in each of its locations with the most thorough, imaginative and closely guarded exotic cocktail recipes in the world!
The artifacts offered here at La Luz de Jesus host a fair representation of the high caliber décor Trader Vic's featured in its many locations across the globe. Some of these date back to Trader Vic's earliest days and include locations such as Oakland, San Francisco, Chicago, Scottsdale, New York, Washington, DC, St. Louis, Osaka, Japan and in addition a partly completed, never opened location in Detroit dating from 1963! Everything from Hawaiian war shields to Marquesan figural poles and sculptured idols are represented in this rarely offered selection.
The Playa del Rey Polynesian Village Apartments, Playa del Rey, CA
Located in a surprisingly welcomed proximity of just over 3200 feet from the North tarmac of the Los Angeles Airport, The Polynesian Village Apartment complex was the epitome of primitive, space-age bachelor pad living for 1962. Designed again by prolific mid-century architects, Armet & Davis, the immersive environment featured a stylishly themed atmosphere, complete with 24/7 flaming gas Tiki torches and cascading lava rock waterfalls. Made in a series of three sister developments across Los Angeles county, the dingbat cubist apartment structures were adorned with redwood carvings by the renowned sculptor team of Andres Bumatay and Richard Ellis. Astonishingly, no two figures are alike and the contemporary free form nature of these rescued artifacts endure as the quintessential definition of "Tiki-Modern".
On offer in the gallery are exquisite relics from this storied testament to American suburban fantasy.
Click here for a link to the index of pieces included in the show.
Contact Gallery Director Matthew Gardocki for purchase info:
info@laluzdejesus.com  (323)666-7667